Speaking: Amanda van Effrink #Glitziegal

19-2-19
When we talk about inspiring women, we are talking about Amanda van Effrink. We were so excited when she responded with enthusiasm to our invitation to do an interview. Kim meets her in 'The Duchess'. Waiting at the bar, Kim sees her walking in: high heels, lots of sequins and a striking hair band. That's her!
Who are you, but especially, who is Glitziegal?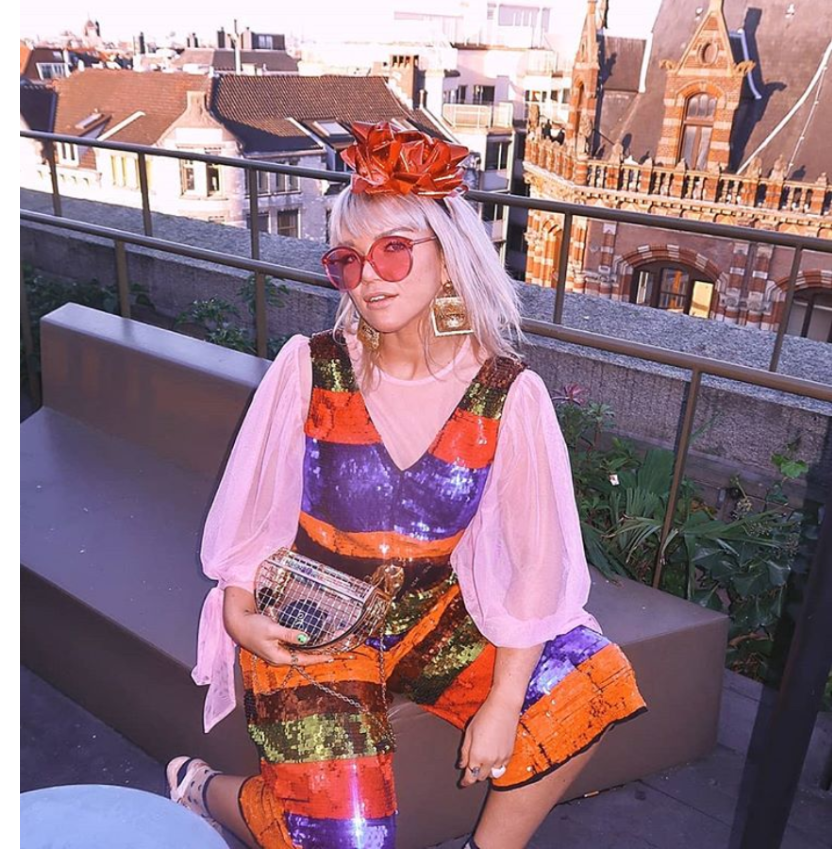 My name is Amanda van Effrink and you can also know me as #Glitziegal. Glitziegal is my own company that has existed for two years now and in which I can bring out my creativity in many different ways. I do a lot of different things, that's what makes it so exciting! I work often as a fashion stylist, I have had my own shoe collection, I present, make videos and a big passion of mine is painting and illustrating. Sometimes I get asked to paint live on events in my Glitziegal style or I create personal artworks for people at home. I am very proud of my solo exhibition in Amsterdam at the end of 2017. Currently, I am working on my own tableware, which is something I would like to do as possible. I miss some sort of 'sexy' tableware in the Netherlands. There is a lot of cute tableware, or very chic, but I would like to design a more funky variant.
How did Glitziegal start?
I started at the fashion academy where I was unconsciously developing my own brand by wearing outstanding outfits with lots of glitter and wearing my self-designed hair bands. That became, and still is, my statement, my characteristic. People became curious (on the street, from the fashion world) and wanted to know more about that glitter girl. The result was that I got invited to fashion parties, fashion shows, big fashion launches, and this way I could establish a name in the fashion industry. I started to notice that my style interested people, so I decided to make it a brand, and so my company.
What is the message behind Glitziegal?
The deeper thought behind Glitziegal is that you should dare to be yourself. Everyone is unique and you should show that uniqueness! Don't be afraid of the reactions of others and look for your authentic self. Follow your own fashion heart. If you feel like going down the street in bright yellow, do so. In my opinion, there are many women in the Netherlands who do not dare to be themselves and hold back. Maybe because their job doesn't allow them to, or maybe because in their insecurity. However, I am convinced that there is a bit of Glitziegal in everyone and I want to see that side so badly! And with that, Glitziegal stands for positivity, girl power and independence.
Where do you get your inspiration from?
My inspiration comes mainly from my own vision, which arises from everything I discover throughout my life. I look at different images on the streets, travel a lot, buy streetstyle books from worldwide cities, watch all runwayshows and I watch documentaries of inspiring people such as Iris Apfel and Lady Gaga. I absorb everything express that, unconsciously, in my styling, art, IG photos and outfits.
Your style (outstanding, pink and glitters), did you have it from a young age or did it arise later?
I have grown up very freely, I was allowed to wear what I wanted. My grandmother was a designer and she was 100% herself in terms of her way of clothing. She was a big inspiration for me. She wore distinct colours and prints and did not care about other opinions. My parents have that freedom as well. They are very proud of me that I dare to be myself and know what I want. They have always stood behind me.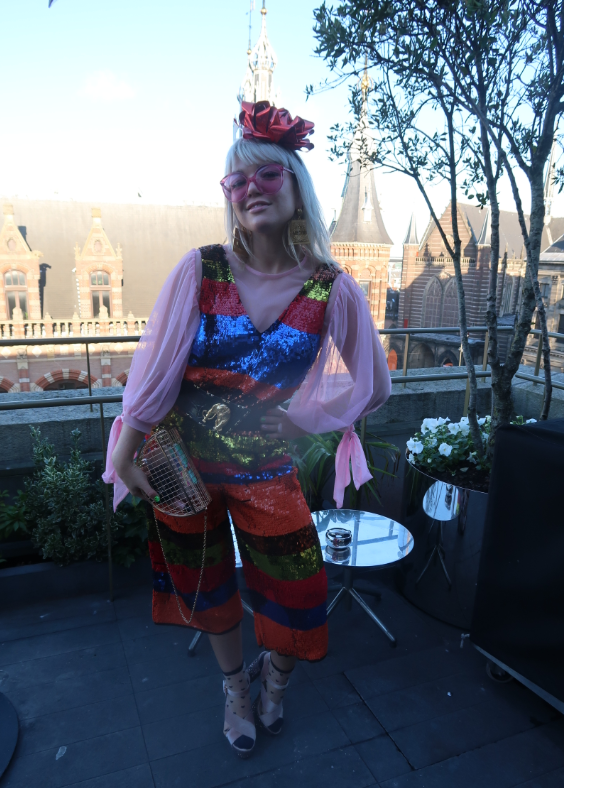 What do you think of women in suits?
As a woman, you have a very strong and sexy appearance in a suit. What I like about suits, is that you can combine it in different ways. You can wear it very casually, formally but also as partywear. Also, you can combine the pants and blazer separately. I think that every woman should have at least three good suits in her closet. Personally, I have many suits in my wardrobe. Glitter, panther, velvet, the crazier the better!
What does your ideal suit look like?
My ideal suit has a huge shoulder, a big print or totally bright pink, nice long pants that reach the ground and a contrasting lining. I have not found it so far :')
Is your style only reflected in your clothing or is it a lifestyle?
Many people ask me if I throw all the glitter away and put on my black jogging suit as soon as I get home. Of course not! Besides the fact that clothing is an expression for me, my house is a hysterical pink glitter situation as well. Everything is pink, everywhere you see #glitziegal artworks, actually it's like a gallery. My style is certainly not a mask, it's really who I am.
Who is your biggest role model?
I really love Nicola Formichetti, Lady Gaga's stylist. He has created her image and style and I also love his own clothing line 'Nicopanda'. I think Baddie Winkle and Iris Apfel are both bad-ass as well. They are 92 and 95 and have always kept their style with rainbowcolours and glitters. I think I see Iris and Baddie as a grip: everyone is getting older but style remains forever.
What do you think is a little less fun side of the fashion industry?
What I personally experience as a limitation, is that I always have too little time. The fashion industry is fast, if you want something you have to deal with it directly. And I think copy-cats are terrible, but unfortunately you can't escape that.
What have you experienced in the past few years that you had never thought about going back 5 years ago?
Last summer, I did my own Glitziegal show for Amsterdam Open Air. The team of Open Air, a friend and I have designed the merchandise together. At the festival, I was able to show the collection (t-shirts, hoodies, tops) and style the models all Glitziegal. I had transformed the fifteen models totally in a unicorn/rainbow/over-the-top style and we walked in a parade over the festival. The fact that I had the opportunity to do this in the name of Glitziegal at such a big event was amazing. Everyone at the festival got so excited. That also inspired me to work on my own collection. I want to do so many things! Setting up a clothing label is a lot of work, so that has not happened yet.
What is your goal for the future?
Glitziegal international, my exhibition all around the world. Ideally, I would like to move to New York or LA and then have my own studio there and expand my own brand even more. Until recently, I was still working at Fashionchick and I only had time for Glitziegal in the evening. Now I have enough time to expand my own brand. Dream big!